Samuel Close - Artist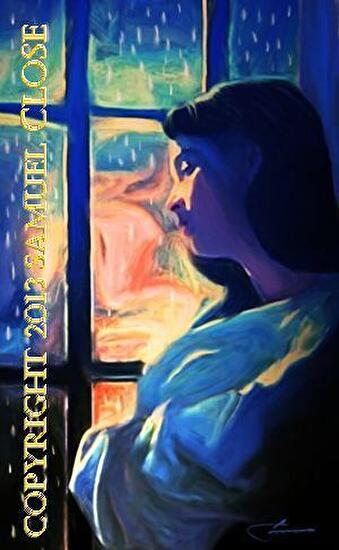 On December 10, 2013, my wife of 40 years, Lois Sorensen Close, passed away suddenly and unexpectantly. Shock, sadness and unrestrained grief overtook our home, myself, our children and our family. As I write this now, nearly two weeks later, disbelief still filters through our home and our conversations. During this time I have channeled my energies down multiple avenues. One included the path of personal decompression through painting, and "Newport Snow" shown above was the result of that effort. Completed on December 20, 2013 the backstory for this painting is as follows:
February 1999. Our 25th wedding anniversary and get away to Newport, Rhode Island. A frigid weekend filled with touring the great mansions, constructed when money was reflected in every mirror like pane of glass, each marble stairway, gilded gate, and manicured lawn. A time and place when and where wealth and power fueled capitalism. An age of barron's and robber's - each of which considered societies child and each with it's own priviledges. We toured the Marble House, The Breaker's, The Elm's, Astor's Beechwood Estate. The magnificent homes along Ocean Avenue owned by the movers and shakers of America that left us both breathless. The Cliff Walk was chill to the bone exhilarating. The Merry Go Round, a child's diversion from long ago days, promised a brass ring every ride, and we laughed ourselves silly with each turn. Slipping and sliding along the rocks at the beach tested our agility and our tenacity to endure wet feet and freezing water. A Winter Festival right outside our B&B full of food and frolic ending with a great dinner left us utterly exhausted.
It was evening when the Newport Snow began to fall, with the reflections cast from the glow of Trinity Church Square and the traffic along Route 138A and Frank and Mill Streets shining brightly outside our lodging. For those that have followed my personal backstory this week, the falling snow added a special provenance to our weekend. Our new opportunity to begin again.
Inspired by a photograph taken that weekend with my wife Lois bundled up in a blanket in a small window alcove, behind her the night sky backlit by the buildings and activities of Newport in the winter, "Newport Snow" will never be for sale. This one goes in the Close Family private collection. A priceless time in our lives captured on canvas. Now revealed at a time when I am left searching for more words in our recent family's loss. Back to a time when when there was no end and new possibilities were always just ahead and all we needed do was reach out. Grab for the brass ring and it was ours. Early on in my art career I was told by a gallery visitor I was just an Illustrator I memorializing places and things. The activities of a small seaside town. Creating keepsakes on canvas. Today I memorialize an amazing whirlwind romance, a great woman, a crazy life full of all the "stuff" always found in great supply and often in high drama, that leaves me full - yet yearning for more. Addictions are funny that way.
Perhaps it reminds you a of a special place and time in your life. Perhaps I can capture time for you, as I have captured mine. Give the link a click for an up close and personal view. http://samuelclose.com/works/1345913/newport-snow
*********************************************
Samuel Close is a listed artist in the Provincetown Artist Registry. He is a member of PAAM, the Provincetown Art and Artists Museum, and the Cape Cod Art Association. Sam was invited into the American Society of Impressionist painters in 2012. While many of his works focus on Cape Cod and Martha's Vineyard, Samuel is also known for his ultrarealism style of painting and for his graphic designs which are licensed and used for a variety of applications.

Selections of Samuel's artwork is represented in select galleries throughout Cape Cod, Off the Hook Gallery and the Island Art Gallery, Vineyard Haven on Martha's Vineyard. AWWWArt opening February 2014, Direct From Artist opening April 2014